Can you really call yourself a fan if you've never visited Dumbledore's island tomb?
Go to Glen Etive.
After escaping from Gringott's on the back of a dragon in Deathly Hallows Part 2, Harry, Hermione, and Ron leap into gorgeous, chilly Loch Etive and have to dry out on the shore. They also camp in nearby Glen Etive in Deathly Hallows Part 1: It's the spot where Hermione ties her scarf to a tree after Ron and Harry argue. Oh, and it's gorgeous too.
Twitter: @ForsterSmiths1
Meet Errol's sister at the Scottish Owl Centre.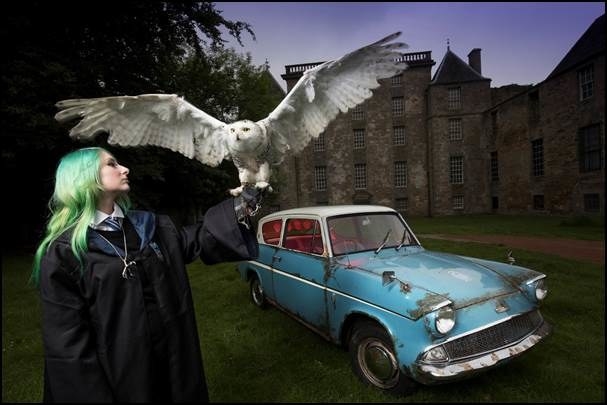 As well as housing the majestic Hedwig lookalike pictured, the Centre is also home to Oulu – a 15-year-old Great Grey and real-life sister of Ron's pretty useless but loveable bird Errol. You can watch Oulu and her friends take part in flying displays and handling sessions, or get a photo shoot with her for £30.
Visit Scotland
Visit the site of Dumbledore's tomb.
This little island (Eilean na Moine) is the site of Dumbledore's final resting place, and where Voldemort steals the Elder Wand in Deathly Hallows Part 1. Loch Eilt is also the place where Harry and co. find Hagrid gloomily skipping stones out over the water in Prisoner of Azkaban after learning Buckbeak is to be put down.
Instagram: @delavega
Or Tom Riddle's grave.
Greyfriars Kirkyard in Edinburgh was a popular haunt (pun intended) of J.K. Rowling. It's been in use since the 16th century and is filled with atmospheric gravestones, some of which inspired the names of Harry Potter characters. Keep your eyes peeled for the grave of Voldemort, aka Tom Riddle (Riddell), and William McGonagall. Maybe he's Professor McGonagall's granddad?
instagram.com
---
View Entire List ›
Source link